Global Espionage Attack on Trump Worst in History – Kevin Shipp
B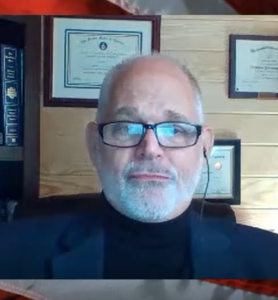 y Greg Hunter's USAWatchdog.com (Early Sunday Release)
Former CIA Officer and whistleblower Kevin Shipp says abuse of the National Security Agency (NSA) spy data (Section 702 of the FISA Act – warrantless surveillance program) used against President Trump to remove him from power was "epic" and "the worst case of sedition in American history."  Shipp says, "They used illegal subcontractors . . . so the FBI could spy and abuse the 702's. That is huge. It's one of the most vast violations of the Constitution and Title 18 U.S. Code criminal law. . . .This is the biggest espionage story in western history without a doubt."
Shipp says that the order to spy on Trump came from the top. Shipp contends, "The 702's and especially Obama using that to attack his political opponents or go after his political opponents abusing the NSA 702's . . . I think sedition is there along with multiple espionage violations . . . and these people will go to prison. Ultimately, this leads to Barack Hussein Obama. We can only hope these people will break away from the swamp and move in that direction. He (Obama) was not only aware of the program, he was directing it by using his National Security Advisor and UN Ambassador. . . . There is no doubt about it. He received the 'Presidential Brief' from the CIA every single day. . . . So, Obama knew about it at least in the presidential daily brief, and it is clear from the (Peter) Strzok and (Lisa) Page text messages that Obama was directing it. This leads directly to him."
Shipp says that stories about a super-secret program to spy on Americans called "The Hammer" is a "totally false story." Shipp says, "This is very troubling to me. Why would they push this so hard, especially now. It is diverting attention away from the true surveillance scandal, and that is the 702's, the NSA and the spying and counter-intelligence operation against Trump."
So, Shipp says members of the Obama Administration were abusing the NSA data before the 2016 election. They thought Hillary Clinton would be elected, and nothing would happen to them for abusing NSA intelligence data. Did they freak out when Trump was elected instead? Shipp says, "Without a doubt. You might remember that CNN came out with a piece that asked, 'What happens if Donald Trump is assassinated?' This was just before he was sworn into office. Game on–the war began. Essentially, they brought out their so-called insurance policy." This is the phony so-called Trump Dossier that has been proven to be a hoax, paid for by Hillary Clinton and the DNC.
NSA (section 702) data abuse happened before and after the 2016 election. Shipp explains, "They were using the information against the political opponents of Barrack Obama and Hillary Clinton. The illegal activity there is huge. So, they know they did that, and they knew that it was illegal. If Hillary was elected, they didn't think any of them would be held accountable. So, once Trump was elected, they knew he would investigate the criminal abuse of these 702's. That's when Hillary Clinton started with the DNC, foreign intelligence, the political operation and this false Trump Dossier."
Shipp contends the real motivation for the phony Trump Dossier was to cover up all the crimes for illegal surveillance at the NSA. Shipp says, "That is correct. The corruption is hard to get your mind around. It's incredible."
Join Greg Hunter as he goes One-on-One with former CIA Officer and whistleblower Kevin Shipp, author of the popular book "From the Company of Shadows."
(To Donate to USAWatchdog.com Click Here)
After the Interview:
Shipp says he wants to make sure that people "do not follow false stories because it stops justice from being done."
There is some free information on Kevin Shipp's website FortheLoveofFreedom.net, and you can also find his book there "From the Company of Shadows."
You can support Kevin Shipp by joining his Patreon account where he talks about security issues every week and shares knowledge he has learned while at the CIA. Click here for Shipp's Patreon channel.
To support Kevin Shipp by donations, click here.
https://usawatchdog.com/global-espionage-attack-on-trump-worst-in-history-kevin-shipp/